What are the best small investment ideas to invest $500, $1,000 $5,000 or a small amount of money?
If I was going by what the SEC wanted me to tell you, then I would say, "Investing is risky and you can lose all your money."
To that, I would have to add that putting money into things you don't understand is NOT investing. It's SPECULATION.
This means it's also gambling.
Frankly, that's the way most retirement accounts are managed. They are speculating on someone being willing to pay more tomorrow than you paid today. This is likely to be true in the long run, but you have to ask yourself, "How long is the long run?"
Ask yourself what you're trying to accomplish before you start investing.
If you have enough money and that you don't need a high rate of return to retire or stay retired…
If you love working and aren't looking to retire early…
If a normal 4-6% return will do it…
Then you can buy a nice mix of stocks bonds and ETFs and you'll probably (in the long run) see about that level of return.
But, you should know that in 20 years, it will take a portfolio of $2.5 million to produce a $50,000 a year income for life in today's buying power.
How are you going to accumulate $2.5 million?
The answer is you can't at those low rates of return.
That's why you should consider learning how to invest (real investing, not speculation).
A Strategy for Making Small Investments
Investing is, in my definition, buying something worth $10 and paying $5 for it. You are pretty certain you're going to make money almost no matter what happens. That's investing.
Gambling is paying full price for something and then hoping it goes up. If you're going to invest a small amount, you first want to consider how much the thing you want to invest in is actually worth. What's the real value? Then, what's the price?
If the price is less than the value, then that's probably a good investment.
The best way to invest $1,000, $500, or $5,000 is the same basic investing strategy as it is with $10,000,000.
Investing is always investing.
How to Invest $500
(Unfortunately, the single, $500 bill will be hard to come by now)
Are individual stocks the best way to Invest $500?  When you're thinking about how to invest $500 you need to consider individual stocks. $500 isn't much to start with, but it is a start.
If you can start with $500 dollars and come up with $500 per year and invest like Warren Buffett, you might have $1.2 million in 30 years with an investment of $15,000.
It's the power of compounding interest that can make you rich even with almost no money.
(This screenshot from my free retirement calculator shows how much you'd have if you invested $500 using Rule #1)
What if You Invest in ETFs, Mutual Funds, or Bonds?
If you put the money in ETFs and get the long term historical return of 7%, all you'll have in 30 years is $51,000.
Same return for mutual funds but remove 1.5% for fees and you'll end up with $38,000.
Same thing with bonds but worse. If you average 5% in bonds with no fees, you'll have $35,000. Bonds are the safest, but how safe is a retirement of $35,000?
This is a bit heretical, but if you don't have much money to invest, you should start thinking about either making and saving more or finding a way to get a much higher rate of return than you can with those options.
If all you have is $500, then what you really have going for you is that you can take some chances. You can afford to take more risk to get a lot higher return because if you lose, it's not a big tragedy. You lost $500.
Go get a part time job washing windows and you can make it back in a month and take another shot. If I were you, I'd try to find the place where I could combine my skills and passions with hard work to make a high return.
For me, it's the stock market. If only because you get good at it, people will give you more money to invest for them than you can imagine.
How to Invest $1,000
Charlie Munger says that there are four things you've got to focus on when you invest your $1,000 or any amount of money.
(Warren Buffett's partner, Charlie Munger)
Number one, be sure you're capable of understanding the business that you're getting into.
Number two, be sure that this business has this thing that we call a moat. Something deeply embedded in it that protects them from competition.
Number three, make sure that the management team are people who share your values, have integrity, are talented.
And finally, you have to buy it on sale. We call that a margin of safety purchase price.
Investing isn't about jumping in wherever with $1,000. It's not about saving more to jump in with. It's about finding something that you love and you understand to buy. Learning to invest takes a bit of time, but the rewards are well worth it.
The key thing to understand is that we make money by buying wonderful businesses and buying them on sale. We make the money when we're certain that we have what we think we have.
Shoot for 15% Returns on Your $1,000
A great rate of return would be 15% a year. If you're starting with a small amount of money and making 15% you're doing good.
It's really not about the amount you're starting with, it's about the strategy you're using that going to continue to grow that pile over time.
Here's a short video that answers more questions about small investing.
Bottom Line: "Risk comes from not knowing what you are doing." – Warren Buffett
How to Invest $5,000
So, you've saved $5,000 dollars. You have a lot of options, depending on your savings goals.
I'll tell you right now, that no matter what you read, everyone is going to tell something different to do with that $5,000 dollars. I'm going to give you what I think is the best advice for how to invest $5,000.
Here is what I think is going to help you out the most in the long run, and hopefully the $5,000 is just a start to a rich future!
Put Your $5,000 into a Roth IRA
First, consider investing in a Roth IRA. A roth is a long-term account in which you pay taxes on your money before you invest it. They've become great investment vehicles for investors who are just starting out.
Since you pay taxes upfront you won't have to worry about what the tax rate is by the time you actually retire, because you'll be paid up. All that money is yours now.
Establish an Emergency Fund
Second, make sure you have a "rainy day fund" or "emergency fund" set aside for unexpected financial difficulties.
Most people will say that you should have an emergency fund of money that you'll be able to live off of for 3-6 months. I say that you should do what feels right and comfortable for you.
Consider Investing Your $5,000 in an Index
Third, if you don't want to do any work or research, but you still want to make a return in the stock market, consider investing in an index, like the S&P 500 or the Russell 2000.
Most people recommend investing in mutual funds. But, having someone else manage your money is a recipe for high fees, low-returns, and low retirement. If you put the money into an index, you won't incur management fees, and indexes have an OK track record over time.
Invest Your $5,000 into Individual Stocks
Fourth, you can consider investing in individual stocks. This is, in my opinion, the best option you can take with your money.  If you want to make returns that you deserve. Returns that you can make with a relatively low amount of effort, consider learning to invest on your own.
Look at people like Warren Buffett and follow what they've been doing for the past 30 years. You can get successfully get 15% returns or with a little bit of work.
One of the best parts about doing it on your own is that you call the shots.
You decide where you put your money. If you hate smoking, you're not forced to invest in a company that manufactures cigarettes. You know what you love and you get to put your money where it counts.
That's the best way to invest $5,000.
Warren Buffett's First Stock
Remember, Warren Buffett started with a small amount of money, and he turned it into $30 billion. That means that it isn't about the money you have, it's about the knowledge you have. That's good news if all you have to invest is a small amount.
It means there are no real barriers to you getting rich if you're willing to work hard and learn. If you want to learn more about investing and how to invest safely and successfully, click the button below to sign up for my free Transformational Investing Webinar.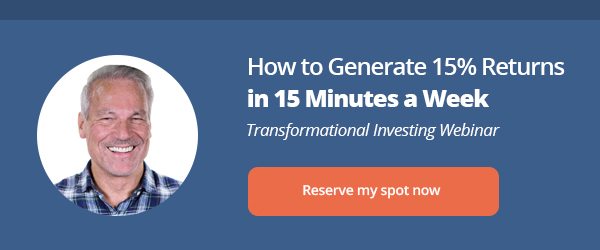 Summary
Article Name
Small Investment Ideas for $500, $1,000 & $5,000
Description
Learn how to start investing with a small amount of money. Phil Town explains the best small investment ideas to make the most money in the long term.
Author
Publisher Name
Publisher Logo